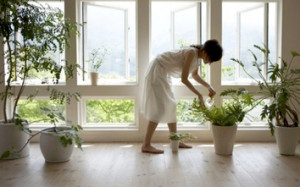 "Suddenly my plants withered. They have pale leaves with dry edges. What's wrong with them, that they changed so suddenly? Is this some kind of winter solstice? Or give them a higher dose of fertilizer?"
These are common symptoms of winter plant disease. If you are fertilizing, then please do not increase the dose of fertilizer. A weakened plant does not take up much nutrients, which remain in the soil and cause salinity that is harmful to the roots.
My advice is to transplant the plant into new soil as soon as possible, to the same or – if the plant has died a lot – nawet mniejszej doniczki. Resztki starej ziemi trzeba delikatnie wytrzepać lub wypłukać spomiędzy korzeni.
Osłabione rośliny najlepiej przesadzać do doniczek plastikowych, gdzie ziemia jest cieplejsza, co sprzyja regeneracji korzeni. Aby poprawić nadwątloną kondycję roślin, trzeba zapewnić im dużo rozproszonego światła, stawiając je np. na parapecie okna od strony wschodniej. Jeżeli w pomieszczeniu jest niewiele światła, temperatura również nie powinna być zbyt wysoka – najbardziej odpowiednia to 18-20 st. C.
In winter, the edges of the leaves often turn brown and dry. However, this is not a symptom of the disease, but most often the result of being exposed to cold drafts or being close to a leaky window.