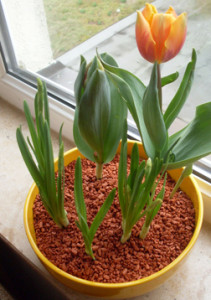 Plants grown in seramis are planted in containers without holes. So it can even be a glass goblet, metal can or porcelain salad bowl. If we water the plants as indicated by the moisture meter, there will never be excess water in the pan and there is no danger, that the roots will rot.
We prepare a waterproof container (if it is openwork, it must be covered with foil), much larger than the pot, in which the plant has grown so far. We carefully take out the plant with a lump of soil and place it in a new container, filled with granules to 1/3 heights. We cover the roots with seramis. Best, if 1/3 the volume of the container is occupied by the roots with the soil, a 2/3 – granules. We put the watering indicator so deep into the root ball, until it touches the seramisu granules underneath, and then pour it into a container of water 1/4 its volume.
When watered, the granules absorb water within 2-4 hours. This is also when the color of the bar on the humidity indicator changes.
Fertilization. Seramis is a sterile medium, therefore, the plants planted in it must be provided with food. You can buy liquid fertilizer for plants with decorative leaves or flowering plants for the bags with granules. Its small amount should be added to the water – with every watering during the growing season and every other winter.