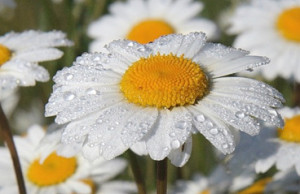 ■ Najwcześniej kwitnące rośliny sezonowe – pansies, daisies, primroses and forget-me-nots – we can already plant outside. We fill boxes and pots with fresh substrate beforehand (a mixture of compost soil, peat and sand), and we fertilize and dig the rebates.
■ Do gruntu można już wysiać nasiona niektórych roślin jednorocznych, e.g.. tentacles, smagliczki, dress code, sweet peas or calendula. Other species, requiring seedling preparation, like marigolds, zinnia, asters, lefty, it is best to sow in the inspection or under the foil, and if we do not have such an opportunity – in the apartment. Place the containers with sown seeds in a light and not too warm place (ok. 15°C).
■ W połowie miesiąca sadzimy bulwy mieczyków i krokosmii. Before their shoots grow above the ground, the danger of frost will be over.
■ Byliny, which bloom in summer and autumn, like bells, goldenrod, floksy, shared, daylilies and delphiniums, in spring they tolerate transplanting and dividing well. However, you must remember to prepare the ground well in place, where they are supposed to grow, and about watering the plants every day for several days after planting.
■ April is a good time to start a lawn. We start by digging the ground to the depth 10-15 cm, at the same time removing rhizomes and weed roots as well as stones and debris. Then we sprinkle the mineral fertilizer (ok. 1 kg in 10 m2) and a layer of peat (thickness 2-3 cm), mix shallowly with soil and rake. We compact the substrate with a special roller or boards attached to the shoes. Sow seeds on the prepared surface (ok. 2,5 day after 1 m2), cover with a centimeter layer of peat or lightly mix it with the soil with a rake. We tamp the soil again and sprinkle it with water.