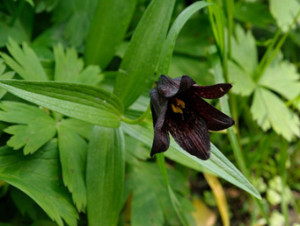 It occurs wild not only in Kamchatka, but also in the Aleutian and Kuril Islands as well as in northern Japan and northwest America. Most often it can be seen in wet meadows and on the edges of forests.
The onions are spherical, in diameter 2-2,5 cm, composed of numerous scales. Quite stocky tall plants grow from them 30-35 cm, with different strength of growth and color of flowers. The leaves are oblong elliptical, arranged in whorls. Flowers, embedded at the apex of the shoot, have a length 3 cm and very original, brown-purple color; on the inside, their petals may be greenish or gray-black. The plant blooms from late May to early July.
Kamchatka checkerboard is the only Japanese species, which grows well in European gardens. Requires humus soil, slightly acidic (preferably peat), sufficiently moist. Likes partially shaded places. When properly cared for, it produces numerous onions, thanks to which it grows quickly. Requires frequent change of the place of cultivation.