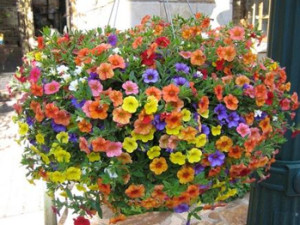 Why is it not recommended to breed cascading petunia independently (even those bought with a health certificate), although their cuttings take root very easily?
Healthy in summer, Beautifully flowering petunias are most often infected with viruses, transmitted from other diseased plants by ubiquitous aphids and other sucking-prickly insects. Viruses multiply quickly and although they are not able to harm the plants well developed at that time, the effects of the infection will be visible in the next year on the seedlings we have made. So it's not worth the risk. You have to, unfortunately, buy new healthy seedlings every year.
Cascading petunia seeds called Fortunia are available on the Polish market. Firma Fux Flora 1 prepares them in small packages, for amateurs. Because viruses are not transmitted by seeds, this type of reproduction guarantees full plant health.