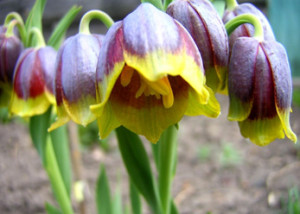 It comes from the North–eastern Turkey, where it grows wild on screes and mountain slopes in height 2000-3000 m n.p.m., as well as in meadows and clearings in pine forests. The bulbs are slightly flattened and have a diameter 1-1,5 cm.
The height of the plants is 15-20 cm. The stems are stiff, with a few lanceolate leaves, ending with only one flower approx 2 cm. Flowering occurs in May and June.
The faded petals do not fall, but they surround the seed capsule. New onions are formed in a small amount and only under very good conditions. The soil should be well loosened, light, but not overdry.