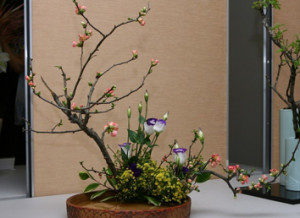 The first heralds of the awakening of nature are usually the buds swelling on the branches of trees and shrubs. Some plants in the spring – e.g.. cherries, forsythia, quince, tamarisks and chestnut trees – begin to bloom, others will release young leaves with unique spring shades of green. You can watch them endlessly. So let's cut a few twigs and bring them to the apartment. So that the finished composition pleases the eyes, its spatial arrangement must be designed in advance, prepare a suitable vessel and the necessary materials.
Cut some pretty twigs from selected trees and shrubs, original outline. Cut their lower ends to length 8-10 cm or remove the bark, leaving a green sap beneath it. Then we dip the ends of the twigs deep into the water for an hour, preferably warm (ok. 30°C), because they absorb it easily and quickly.
By adjusting the twigs to the selected place in the composition, we clean them from unnecessary donuts, leaves, flowers or side branches, then bend or twist. Twisting the stems along the axis makes, that they become less stiff, bending, on the other hand, softens the curvature of the modeled twig (fingers should be slowly moved along the stem, by kneading it in a certain direction).
Putting the composition in a tall vessel, we rest the twigs on its bottom and edges. So that the twigs do not change position, we can use support materials. They can be:
– podstawki ceramiczne z otworami, in which the ends of the shoots are wedged;
– metalowe szczotki (kenzany), used to nail the ends of the stems, and also for weighting the base of heavy compositions;
– siatka druciana;
– kulki szklane;
– gałązki drzew liściastych lub iglastych;
– taśma samoprzylepna.
If we put the twigs in a shallow and flat dish, put the kenzan on the bottom before pouring water, we fasten it with plasticine or load it, leaning the other kenzan against him (wedged pins prevent the composition from overturning). We can also use foam for arranging bouquets – e.g.. Oasis – previously soaked in water.
The art of arranging compositions from cut flowers and branches – ikebana – is the specialty of the people of Japan. In spring, many Japanese homes arrange bouquets of flowering twigs, especially cherries. This tree is so popular there, that Japan is often called the Land of the Rising Sun..