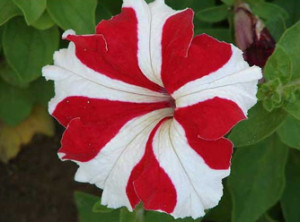 The cascading petunia is popularly known as Surfinia, the names of the first group of these plants, which was brought to Poland. We have a choice of at least a dozen other groups of cascading petunias with different names, in many varieties and colors.
Cascading petunias are the result of breeding work, the aim of which was to obtain more flowering plants than the hitherto cultivated garden petunia, resistant to unfavorable weather conditions and easy to propagate from cuttings.
Japanese breeders used genetic engineering methods when crossing wild petunia species and their cultivars. These works have produced amazing results – so a new plant was born, which was called Surfinia. This name covers the entire group of cascading petunia varieties, with flowers of various sizes and colors, and is proprietary to Suntory Ltd. i Keisei Rose Nursery Inc. from Japan.
Many companies are working simultaneously to obtain profusely flowering petunia hybrids, therefore no wonder, that almost at the same time a group of cascading petunias appeared on the European market under the common name of Cascadia, selected by the company Danziger from Israel. Soon they were joined by Futura petunias and Sunlovers, from Schmulling, and Sylvana (from Westhoff), Solana Royal (Liebieg), Constana (Koniger) and Anthofinia (Scharrachbergheim).
Senators cascade petunias from the French company Philiomel Horticulture SA are on sale, Fortunia, promoted by German seed companies Benary and Walz, oraz drobnokwiatowe odmiany grupy Million Bells (Suntoiy Ltd. i Keisei Rose Nursery Inc.), Petitunia (Danziger), and also Carillion – the effect of the work of Japanese breeders from the Sakata seed company.
In addition to foreign varieties, florists can buy Polish varieties of cascading petunias called Ursynia, bred by professor Henryk Chmielą from the Warsaw University of Life Sciences and bred by the Vitroflora company from Łochów near Bydgoszcz.