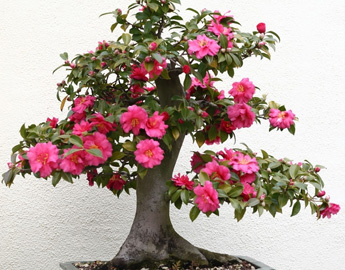 Camellias are almost as sensitive as mimosa. But that only happens then, when we care for these plants incorrectly. Camellias are evergreen shrubs with shiny and leathery leaves. They grow quite slowly. Surrounded by care, three-, four-year specimens can, however, reach 50 cm. Single-flower varieties are sold in garden stores, full or half full, in shades of pink and red. White varieties are less known.
Camellias grow best in a cool and bright place. They feel great in the winter garden, arranged in a cool room. A loggia is suitable for this.
From June to September, camellias can be brought into the garden and placed in a semi-shaded place. We water them quite abundantly and regularly with soft water (decalcified), removing its excess from the base. In winter and spring, we fertilize the plants every week.
The camellias season begins in late fall and lasts until mid-May. The first to bloom is "Cleopatra", Its flowers are perishable, but they smell intensely.
"Buttonsn Bows" impresses with its beautiful shape and color of flowers. They appear only in late winter. It is a delicate variety, but compact in shape.
Snippet grows slowly, and its twigs hang slightly. Growers create bonsai from it.
'Maroon and Gold' is one of the most beautiful varieties of camellia. It blooms constantly. The plant forms a compact shrub.
"Bobs Tinsie" has flowers of original shape and unprecedented durability. Their buds develop gradually, completely covering the bush.
"Alba Simplex" will charm us with its snow-white color of flowers. Some varieties cannot stand in shady places, because they won't produce flower buds then.
The variety called "Eximea" owes its popularity among growers to decorative flowers in raspberry color. They develop most beautifully in May at the garden discount.
In summer, the camellia pot can be dug into the ground or placed on the balcony. To protect the plant from excessive sun on particularly hot days, place it in the shade.