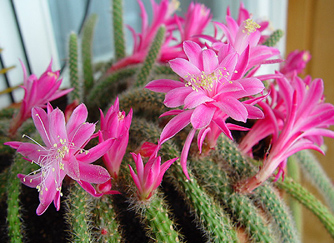 Don't give up on potted plants just because, that you don't have time to deal with them. There are also hardy species, who tolerate periodic lack of care well.
We like to live surrounded by greenery. An apartment without plants is not very cozy and seems, that something is missing in it. Plants create a friendly microclimate and have a good effect on our well-being. And it is not true, that you need to spend a lot of time caring for them. In the rich offer of potted plants, you can find such, which are beautiful, and at the same time they do not require special efforts. It is enough to provide them with the necessary minimum: appropriate position, humidity and nutrients. And add… a little bit of affection.
Plants resistant to periodic lack of care or improper care include: herbalist, sansewieria i aspidistra, that withstand a lack of moisture when watering once a week, and even less often, and ornamental cacti and asparagus, But not only they can cope with difficult conditions. For busy people, we recommend the following plants:
Cissus rombolistny grows well in any permeable soil and at the average temperature in our homes. In very dry rooms, you need to spray it a little or put a container with water next to it. It cannot tolerate excess water in the substrate, therefore, in summer, water it moderately, and sparingly in winter. If not exaggerated every year, during the season, feed it several times with multi-component fertilizer for plants with ornamental leaves. When it gets too large, shorten it a bit, and the shoots will thicken nicely.
Another climber – scindapsus tolerates heat well, and cold. In the fall, when the apartments are not yet heated, water it very sparingly, because excess water could cause the roots to rot.
The coniferous plant is a thermophilic climber, but it can withstand temperature drops down to 10 ° C. It grows in any soil. When it is dry, it hangs the leaves, but on the basis of reason he endures it.
Pendulous bilbergia is also very durable. It can stay in dry air for a long time, in winter, 16 ° C is enough for her. It blooms from summer to winter, releasing long, hanging flower shoots. The ribbon echmea is an epiphyte, that is, a plant, which in nature lives in trees. The only requirement is for the substrate – it must be very loose and acidic, low in nutrients and constantly moist. Provided adequate humidity is ensured, tufa can also be very durable. It will grow luxuriantly, when you fertilize it every week. Then, however, you have to replant it every year.