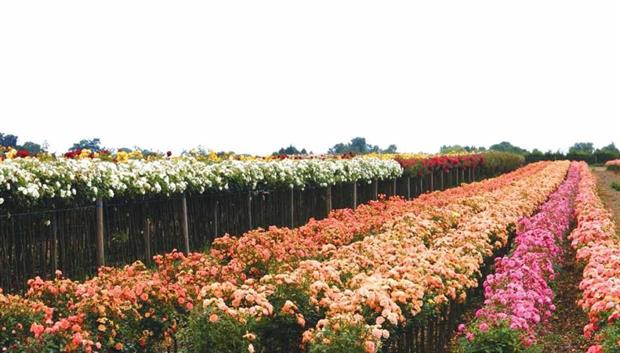 Growing and producing roses in Poland.
The growing interest in rose as an ornamental plant of exceptional value, which is visible all over the world, has also affected our country. The first manifestations of this interest in Poland fall in the second half of the nineteenth century, however, the cultivation of roses was mainly concentrated in magnate estates and some estates. At that time, roses were grown almost exclusively for personal use, based on the leading positions of the Western European assortment, so, first of all, on renovation workers (Rosa hybrida bifera hort.).
Significant progress in the popularization of roses in our country was recorded at the beginning of the 20th century. The first rose nurseries are then established, which contribute significantly to the introduction of these plants to home gardens, and, in increasingly serious amounts, for public green areas.
At this time, our cultivation under glass begins to develop (mostly in pots) on a commercial scale in metropolitan centers.
In the first quarter of this century, we note an extremely dynamic development of rose nursery production and an increase in the scope of their application.. A number of specialist nurseries were established at that time, conducted at a high level according to the best European designs; these nurseries offer collections of several hundred varieties, covering currently the best and most effective varieties. Horticultural farms specializing in progressive greenhouse cultivation are also established at that time. In this field, we try to catch up with foreign countries.
The interest in roses continues to grow among more and more rose lovers, and on the part of the management of municipal green areas, which sees outstanding ornamental value in bouquet roses and uses these plants on a mass scale.
In the last years before the Second World War, we already had an excellent nursery production in the country, based on patterns and assortments from Western Europe. The enormous progress in the field of nursery production and the cultivation of roses in soil was not accompanied by the appropriate development of greenhouse cultivation. This cultivation was not favored by the significant import of flowers from abroad, from highly specialized production countries, and price policy, which in the system of economic relations at that time did not shape successfully for the domestic producer.
The commercial cultivation of roses covers two main directions: nursery cultivation of roses, that is, the production of shrubs, and cut flower cultivation, in the ground and under glass. To this you can also add fruit crops, which has made significant progress in our country recently.