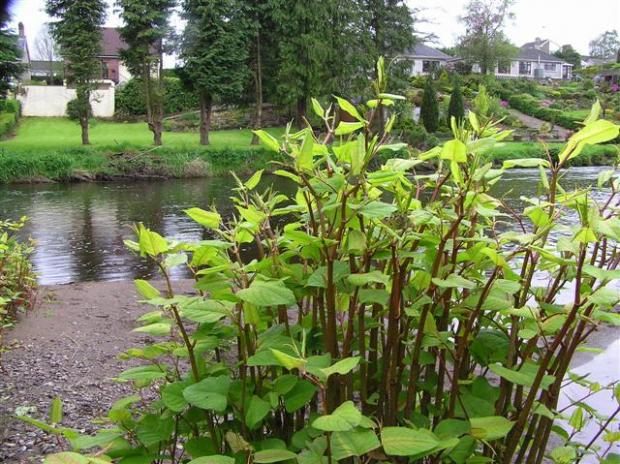 Japanese knotweed
Japanese knotweed, also called sharp-edged (Fallopia japonica syn. Polygon's cusp), it is becoming an increasingly common weed in our gardens. The plant is so expansive, that e.g.. in the UK there are special rules for its winding-up, and the new project involves bringing the plant's natural enemies from the Far East – insects and fungi specific only to knotweed. The Polish ministry of environmental protection has also started preparing a special draft law. Although work on the project was discontinued, in protected areas, special programs are introduced to combat this particularly invasive weed. The fight is extremely difficult. Suffice it to say, that the plant regenerates from the weight fragment left in the soil 0,2 g. Covering the ground with foil or nonwoven agrotextile also does not do much. The rhizomes of one plant penetrate the area on 7 m horizontally and 2 m into the ground. So knotweed appears very quickly in other parts of the garden. Even cases are known, when the knotweed entered the building through the cracks in the wall.
It all does, that controlling the spread of Japanese knotweed without the use of herbicides is extremely difficult. However, we can significantly weaken the growth of this plant, by pruning the shoots above the transition zone between the stem and the root. Fold the cut shoots on foil and dry them, and when they are completely dry, we can burn them or transfer them to a composter. We do not store the removed shoots in the composter, because they may contain root or rhizome fragments.
If we decide to use a herbicide, formulations containing glyphosate will be appropriate, which are best used in late summer and fall. The systemic herbicide will be absorbed by the plant and will reach the root system, in which it will cause the greatest havoc.
However, let us not be deceived. Fighting the weed, which reaches height 2,5 m is not a simple matter. In the spring, new shoots will appear again and when they grow less than that 1 m, we repeat the spraying. The knotweed will bounce back, this time, however, the shoots should be weaker. Spray again in late summer or autumn. We must prepare for the fact that we will use cyclic spraying for three to five years.