Beech marten – Tuesday foina
Beech marten, just like the forest one, is wanted for fur. Beyond the British Isles and Scandinavia, beech marten lives all over Europe, as well as on the islands of the Mediterranean Sea, in Asia Minor and Central Asia. It looks like a forest marten, it differs only in details: the torso and feet are shorter, it is stockier and more massive (1). Her chestnut fur is not exactly the same shade. The stain under the neck is white, but bigger and does not end sharply like in a pine marten (2), but it goes all the way to the forelimbs (3). In addition, at the beech marten (4), unlike the pine marten (5), the footpads are not hairy, and smooth and flexible. This can be clearly seen on the tracks in snow or mud. The five-finger marten footprint is blurred, beech marten - very pronounced. The two marten trees also differ in the length of the tail: marten tail (4) it is shorter than that of the pine marten (5). Finally, beech marten and pine marten do not live in the same habitat. Pine marten prefers wooded areas, while the beech marten stays close to human settlements, which perhaps resemble her rocks, which are her favorite habitats.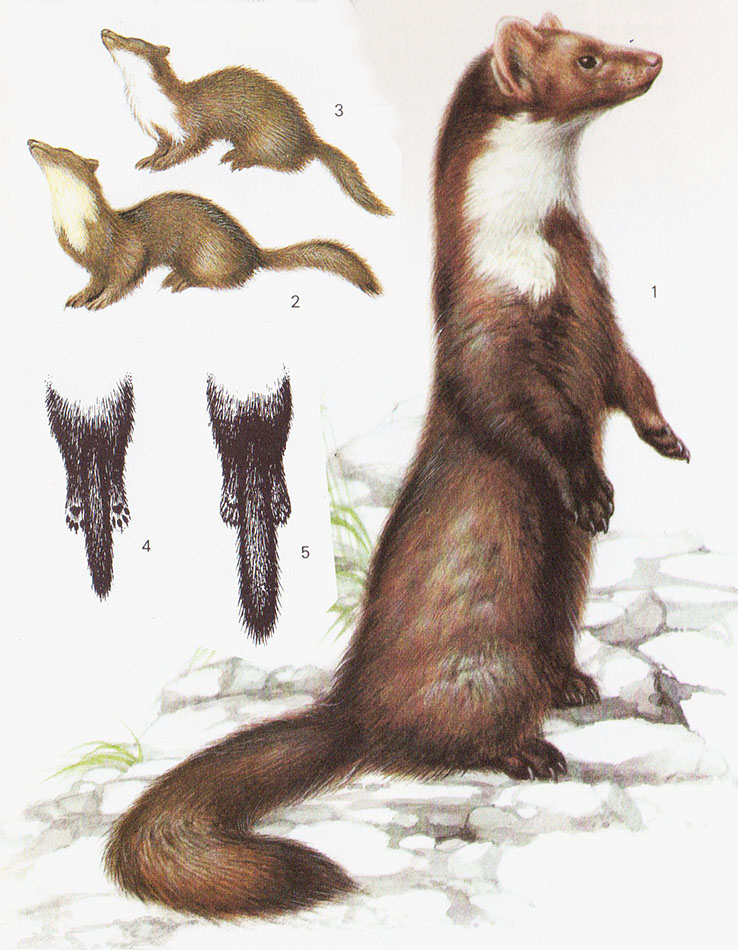 The beech marten feeds in the same way as the pine marten. It hunts birds and small vertebrates, supplementing its meat food with insects, eggs and blueberries. There are, however, differences in the composition of the food: Beech marten mainly eats animals, which he catches on rocky slopes and in backyards. It eliminates a lot of small rodents, like field and forest mice, but it can also cause considerable damage to poultry and feathered game farms. Beech marten reproduces in the same way as pine marten. Fertilized eggs take some time to develop further, so that the embryo begins to develop in the uterus only at the end of the year. Protected species.