Borsuk – Meles meles
The badger looks nothing like a marten. One could say, that it is a transitional form from martens to bears. His sluggish and massive appearance and the way he walks make him, that the badger looks like a little bear. Its five-finger trail is 7-10 cm long (3). The badger is found all over Europe with the exception of Scandinavia, and in Crete and Asia Minor, from where it gets to the Far East. It lives in forested steppes, choosing especially overgrown slopes, where with his strong claws he digs deep burrows. It is a labyrinth of intersecting corridors exceeding length 10 m going down to 5 m. Such a spacious burrow has numerous entrances and is clean, unlike fox burrows, in which there are food remnants. The badger's den is completed by a spacious one, a blind chamber sent with grass, moss and leaves. Your droppings (4), gray and elongated (6—8 cm in length and 2 cm thick) the badger lays in a hole dug for this purpose near the burrow.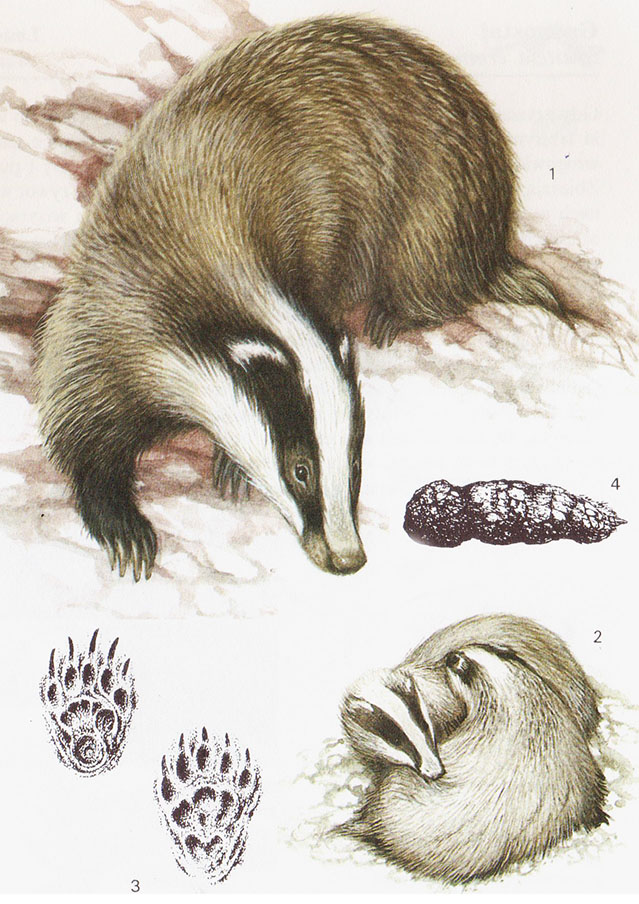 Borsuk it is omnivorous. It feeds on small vertebrates, insects, berries and roots. He cares a lot about his fur, which he cleans and combs with claws and teeth. Badgers also provide services to each other (2), which, in addition to the basic function, also expresses social relations between individuals, and also calms down, as this action is considered a friendly reflex when meeting two badgers. Badgers are a social species. They are hunted individually.
The body weight of a badger is from 10 do 16 kg, but in the fall, before wintering, some males even weigh up to 20 kg. The badger has a gray-black robe and a characteristic black-and-white mask (1). The length, including the tail, is 80-100 cm. At the base of the short tail (15—19 cm) there is an outlet for the scent glands. The badger's secretions mark their territory, but it is also used to recognize each other in heat, which occurs in July and August. However, the period of onset of heat varies depending on the place of existence. In some regions it may start in January, and in others, it may end in October. The pregnancy may or may not be prolonged depending on the fertilization period. In March or April, the female gives birth 2 do 5 puppies, blind and covered with sparse white hair, which she feeds with milk for approx 3 months. Young borsuki they start seeing after a month, and at the end of summer they show some independence. Not infrequently, however, they spend the winter with their mother. Game species.