Ermine – Mustela erminea
As rodents over-breed and transform fields and meadows into a great maze of subterranean passages, their natural enemies immediately appear. Buzzards and kestrels begin to soar over such terrain. Herons and storks also gather. At night, many mice end their lives in the claws of night birds or between the fangs of foxes. The hillocks of the earth testify to the nightly visits of the latter to the colonies of mice. The ermine is also a rodent destroyer. He lives all over Europe, except the Mediterranean basin, in North Asia and North America. It is found mainly in plains and hills; in the mountains it can reach heights 2000 m. It mainly feeds on rodents, under favorable conditions, it catches young hares, however, it also eats frogs, lizards, snails and insects. Ermine, like other martenidae, they reproduce in two fixed periods. First, it's February or March; ovum, then the embryo develops normally and the female gives birth after 8-10 weeks of gestation. The second mating season occurs in July and August. In this case, the embryo remains latent in the uterus. Females are pregnant for nine months and give birth 4 do 7 young people almost at the same time as the first group, i.e.. from April to June. The litter is also looked after by the male.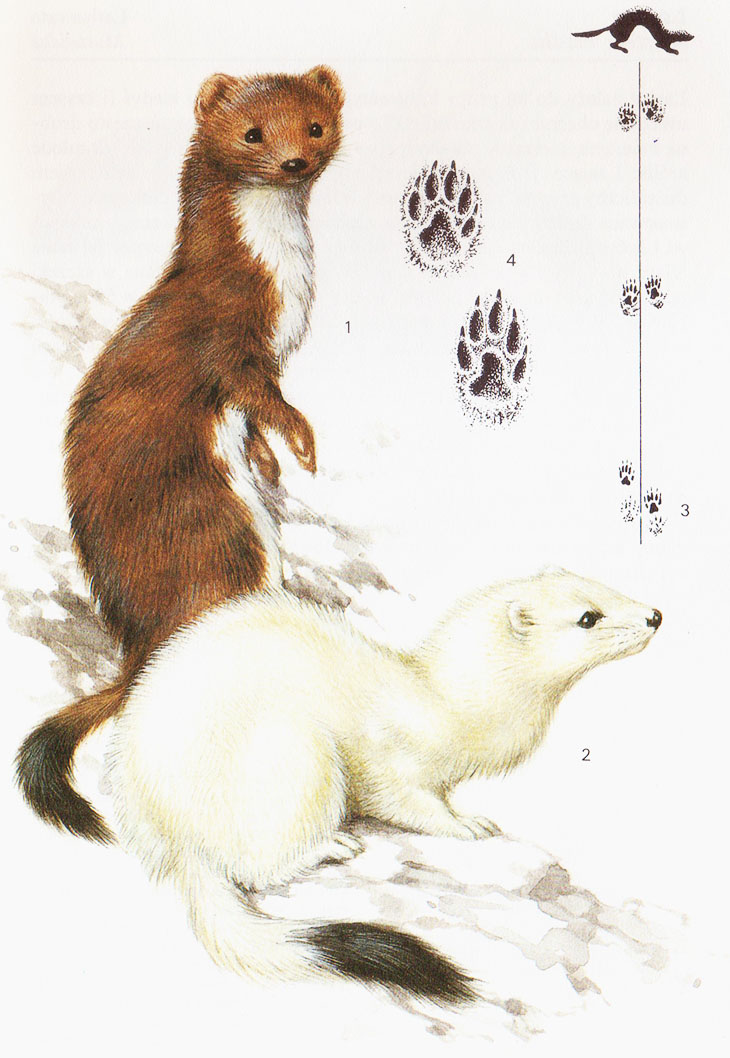 Ermine (1) it is 30-41 cm long, including the tail (3—12 cm). Its body weight is 125-350 g. Females are about a third smaller and lighter than males. The ermine summer dress is on the back of a cinnamon color, almost white on the belly. The end of the tail is always black, regardless of the color of the dress. Winter, when the fur of the ermine turns white, tail end, the eyes and mouth remain black (2). The ermine moves in jumps of various lengths, always placing the hind feet in the tracks left by the front feet. After walking through the snow, you can see the trail of even footprints left 20-70 cm apart (3). Front paw prints have 2 cm in length and 1,5 cm wide, hind legs respectively 3,5 i 1,3 cm (4).
In many countries, ermines are shot or trapped because of their precious fur.
Protected species.