Aesthetics of the building facade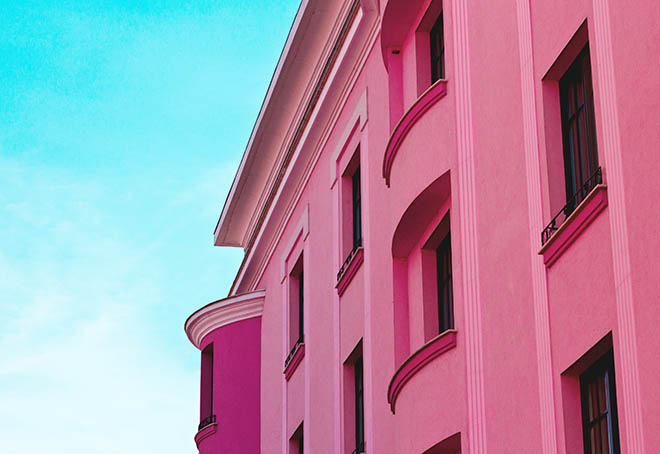 Windows, portfenetry, balconies and loggias are arranged on the plane of the facade of the building at the points of intersection of the grid lines of the composition layout, creating architectural rhythms.
When discussing the rhythms on the facades of residential buildings, one should take into account the rhythms related to the surfaces of these facades. They influence the architectural rhythm 4 factors:
• purpose and functional layout of the building,
• arrangement of walls, poles, ceilings,
• brick arrangement, hollow bricks, prefabricated, arrangement of wall structures, windows, balconies, loggii,
• shapes of the above elements, decorative elements, color solution, arrangement of window openings, balconies, loggii – they can form regular or irregular rhythms.
The points determining the arrangement of the above elements can be placed on a rectangular or diagonal grid system. Rhythms of decorative elements, plaster divisions invoices, stone, ceramic, the rhythmic composition of the facade colors - they create the character of the facade.
The color composition of the rhythm and elevation system elements should be related to the functional features of these elements, strongly emphasize the character of the designed facade, along with the occurring linear divisions, window layouts, balconies and loggias.
The legibility of the rhythm is achieved by the correct number of elements; too many of them disturb the rhythm. Also the dimensions of the elements should be properly selected - rhythm of small decorative elements, used on a large plane, it can blur the purity of the rhythms. It is advisable to emphasize with color or texture the rhythm of the construction of the side walls of the loggia, shutters, the palate of the balcony slabs. When it comes to the color solutions of the façade, light colors should be preferred. The color and texture differentiation of vertical and horizontal stripes will bring out the functional features of the building, highlighting staircases, layout of residential sections. Reinforcement, Regularly arranged containers with flowers can be used to emphasize the rhythm. All the mentioned and fulfilled solutions have a decisive influence on the visual appearance of the building, street, settlements.