Selection of plants for balconies, loggias and terraces.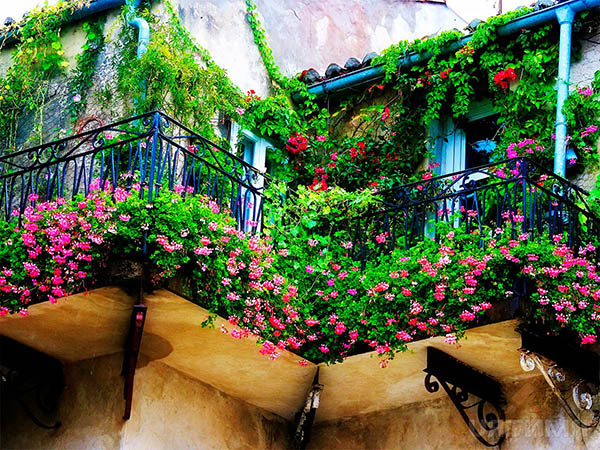 When selecting plants to plant a balcony, consider the place, where they will be planted, and their height. In front boxes, located on the long side of the balcony, medium height plants should be planted, maximum 25-30 cm. This is especially true of plants in boxes hung on the balcony railing, which should be planted with plants branching out from below; in this way the little decorative view of the stems is avoided.
The choice of plants depends to a large extent on the position and insolation on the balcony.
You have to predict and plan the selection of plants, so that the balcony or loggia is flowered from early spring to late autumn; this can be achieved by planting continuously flowering or seasonal plants, i.e. blooming in early spring, in summer and autumn.
Seedlings are planted in containers on balconies (flanks) or sows seeds directly into the soil. Perennial plants are also used – herbs, which after winter in the ground, protected from the cold with a light cover, they will resume vegetation in the spring, to bloom in all its glory in the summer.
Although it is avoided to locate balconies and loggias on the north side of the building, this is sometimes the situation. For such a location, forget-me-nots can be recommended. They bloom in April and decorate the balcony until mid-May. Forget-me-nots are biennial plants; sown in July-August, they will bloom in the spring of the following year.
In the second half of May, tubers and boxes can be planted with tuberous begonia, multiflorous, about the beautiful, large red flowers, purple or light coral. This very decorative plant is sensitive to strong winds and rainwater from balconies on the upper floors.. The best way to decorate shaded fragments of loggias and balconies is to plant ivy or periwinkle.
Common ivy forms a compact clump of greenery, and long shoots are usually spread over the sides of the box, creating an interesting decoration for the balcony.
Barwinek, green leaves even in winter, enriches with blue-violet flowers in the spring. Being a perennial plant, it can stay in the box for a few years. Like ivy, cover it with leaves and sand or peat during the winter. Periwinkle seedlings can be grown in an apartment without much trouble. It is enough to cut the twigs into small sections with two leaves and plant them in pots or boxes with peat and sand in relation to 1:1; after some time, when they take root, they can be transplanted into balcony boxes from spring to mid-summer. Not much, there is a plant, which endure conditions on shaded balconies, it is worth nurturing and taking special care of even these, which are devoid of colored flowers.
The balconies on the eastern side look completely different, southeast, south, southwest and west. It is much easier to select plants for these sites, and the cultivated species bloom in spring, in summer and autumn.