Rabat with herbs – projects. How a successful project is created.
The colorful chaos in the perennial bed is even interesting, however, to make the plants look effective, a precise planting plan must be made. Here is the project of such a discount.
Plan to fill discounts – colored surfaces represent the colors of the flowers, each cross is one plant. You can also mark the height, which individual species achieve.
1. Bodziszek Endressa (Geranium root); 2. Caucasian omens (Doronic Caucasian); 3. Mountain cornflower (Centaurea montana); 4. Japanese anemone (Anemone japonica); 5. She shaved blue (TALL blue); 6. Evening primrose square (Oenothera tetragon; 7. Golden rooster (Corydalis yellow); 8. Spring illusion (Omphalodes verna); 9. Pasque flower (Pulsatilla vulgaris); 10. Stone wall (I sat on the phone); 11. Garden adjective (Erigeron hybr.); 12. Musk mallow (mallow moschata; 13. Rough sunflower (Heliopsis scabra);14. Garden delphinium (Delphinium x belladonna); 15. Floks wiechowaty (Phlox paniculata).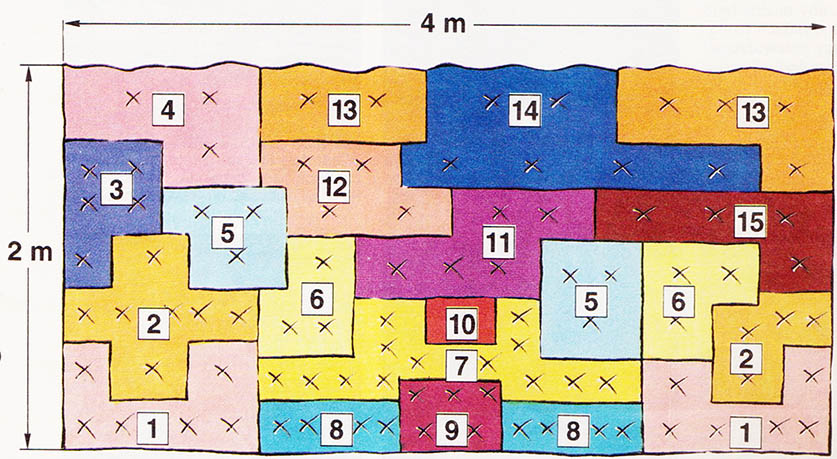 All the plants, what we have envisioned in our perennial rebate project, grow perfectly in normal, humus garden soil. Therefore, the plan presented here can be used as is in your own garden. You can also replace the plants we propose with others,of similar height and color of flowers. We start by making a list of the plants we need, on which we put their flowering time, flower color and height achieved. Then we draw the shape of our flowerbed on paper and design the arrangement of plants on it. Colored pieces of paper will come in very handy for this, which can be moved, until a satisfactory project is created. You should also take into account the flowering time of individual plants. We really care about it, that our composition is beautiful and colorful from early spring to late autumn.
Geranium tolerates moist and dry soil well. It blooms from May to August, reaching height 30 cm.
Omieg blooms in color in the perennial bed already in April. Height -30 do 50 cm.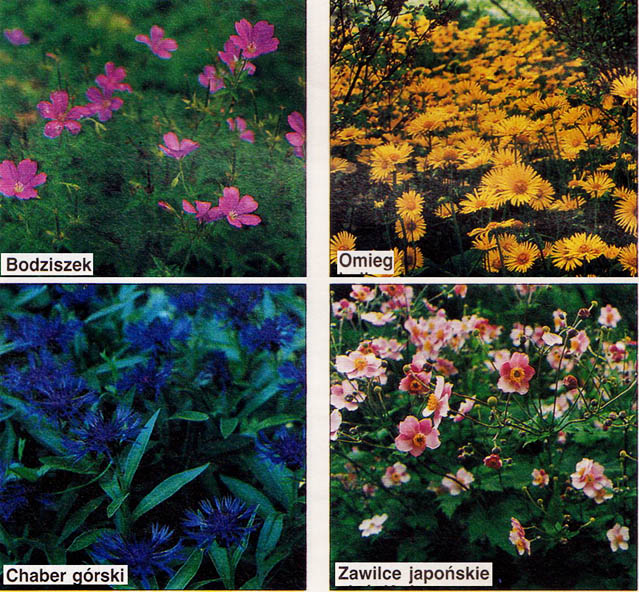 Mountain cornflower needs a lot of sun and often blooms twice a year. Height 30-50 cm.
Japanese anemones also tolerate partial shade. They bloom in September / October. Height – do 100 cm.
Also remember, that too many different plants adjacent to each other do not look good. Gardeners plant at least three plants of one species. The only exception may be strongly branching ornamental perennials.
He likes moist soil. It reaches a height of 30 do 100 cm. Flowering time – April May.
Evening primrose flowers continuously from June to September. It grows up to 60 cm and tolerates any surface well.
The illusion grows well in the shade of other plants. It blooms from March to May, grows up to a height 15 cm.
Sasanka – The variety shown here tolerates limestone soil well. It blooms from March to April, show. do 30 cm.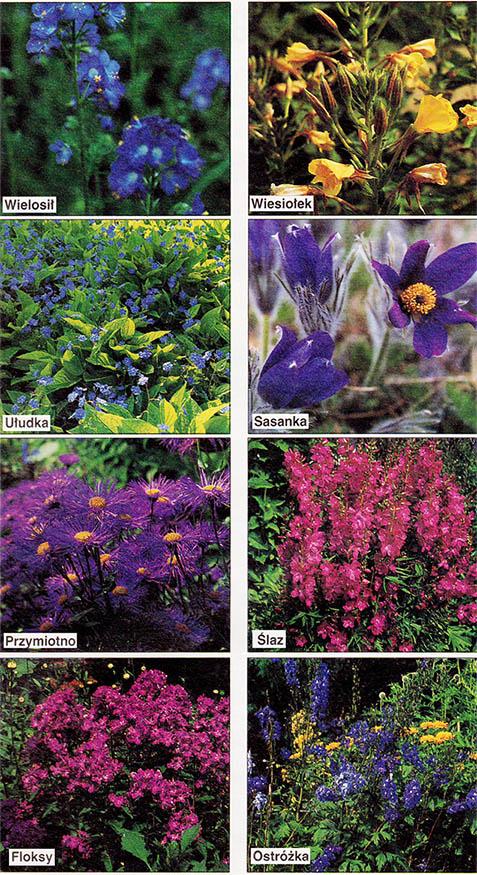 Przymiotno likes full sun and tolerates dry soil well. It blooms from June to August. Height to 80 cm.
Mallow works best in sunny places. It blooms from July to September, height 60-80 cm.
Floksy – hybrid varieties of paniculate phlox (here 'Aida') they reach 80 cm. They bloom from July to September.
The delphinium grows beautifully in good soil. The variety 'Volkerfrieden' blooms from July to September.
The size of the discounts
Finished, already planted perennial beds are relatively easy to care for. However, there will always be something to do on them – therefore the flower bed should not be too large, so that you can easily reach all the plants growing on it. With the width provided for in our project 2 m it is still possible provided, that the rebate is accessible from all sides. In the case of flower beds with perennials near the wall or a hedge, slabs or stones should be provided to facilitate walking and working on the flower bed.
Kokorycz is also an undemanding perennial. It blooms from May to September. Height – 40 cm.
One of the species of sedum. S. telephium blooms from July to September and reaches a height of up to 50 cm.
The sunflower is a perfect background for other flowers, grows to height 120 cm. It blooms from July to September.