Selection of perennials – art of composition. Playing with color, shape and size.
Many perennials grow so fast, that after a few years it requires dividing and replanting. So we have a great opportunity to try out new ones, interesting plant combinations.
Geranium and rhododendrons bloom profusely throughout May.
Aksamitne, the incredibly bright flowers of full peonies look particularly decorative next to the small azaleas.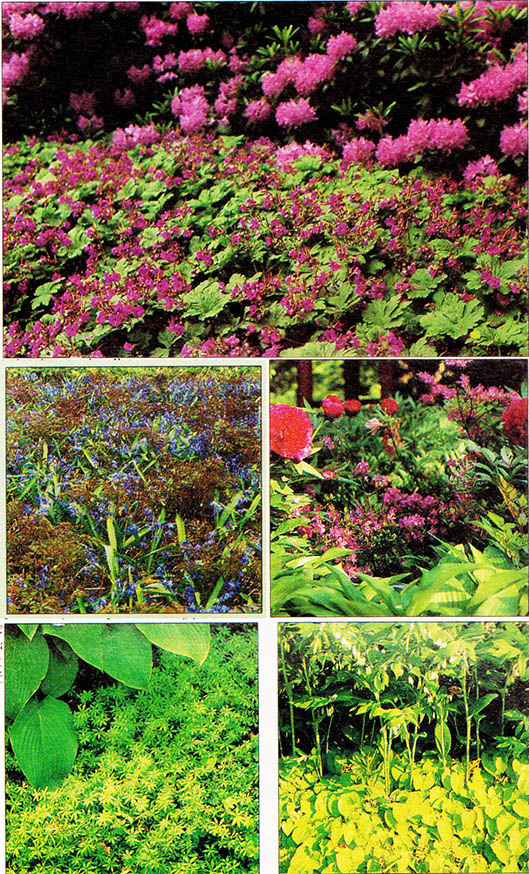 Funkies have very decorative leaves. They are suitable for semi-shaded places. They look great next to the sweetmeat.
Epimedium (in front of) and Kokoryczka feel good in partial shade. As native wild perennials, they hardly require care.
Every gardener is happy, when something is constantly blooming in his garden and everything grows wonderfully. However, it becomes too much with time – the largest perennials must be divided and replanted, so that they do not completely choke other plants. The best way to manage the new plants obtained in this way would be to plant them in the newly established beds. Perhaps it is worth combining them with grasses, shrubs or other perennials – in contrasting colors or on the contrary, with harmonized colors. Many beautifully growing perennials have low substrate requirements. You can plant them anywhere you like – not only in existing beds, but also at the edges of the beds planted with shrubs, on a piece of lawn in front of the fence or in the extended edge zone of the pond, so far overgrown with grass. Naturally, there are so many ways to design a discount, how many plant species. However, they can all be boiled down to a few basic principles: we combine plants with a contrasting color or plants with harmonized colors, we emphasize the differences in their forms, such as leaf or flower size and plant height. You can also combine different plant species side by side, by combining perennials with grasses, for example, shrubs, bulbous plants or with summer flowers. The main thing, to make one element both by color, and the shape of the leaves, it dominated the entire group of plants, thus determining its character. A combination of too many quite different plants generally doesn't look great.
Colorful spring proposals. Siberian bulbs, narcyzy, Hyacinths are the decoration of the perennial flowerbed then, when only the first leaves of other plants come out of the ground. In the spring, they have all the discounts for themselves, later, when they lose their beauty, will be covered with luxuriantly growing perennials.
Colorful plant compositions, carefully planned.
Perennials and summer flowers. A bed designed in such a way requires a basic "structure" of perennials, preferably with similar shapes and colors. Summer flowers that change every year make the flower bed more varied. Thanks to them, you can play endlessly and try out new combinations of colors and shapes over and over again. Summer flowers especially recommended for perennial beds are: dress code (pink, white), czarnuszka (lavender), seaside smagliczka (Violet, White), rudbekia (yellow, Red), gailardia (yellow, Orange), thimble, sage (Red, Violet), mallow (pink, White), cosmos (purple, pink, white), gillyflower (lavender, White), decorative tobacco (pink, white), velvet (yellow, Orange), werbena (dark pink, White), zinnia (pink, White).
Perennials and grasses. In these kinds of combinations, the ratios are reversed: grass forms a tranquil element, connecting various, brightly flowering perennials. Because a lot of grass requires it to be dry, poor substrate, they should rather be combined with perennials for rock gardens, well tolerating dry surfaces. They can be, for example, a rock dragonfly, yellow chamomile, you gild (Chrysopsis), garden bell, pyrethrum, a carnation of cards. geranium, the asterisk, len, sasanka, rockery, rojnik murowy, sedum, speedwell.
Perennials and rhododendrons. All perennials that like loose can be planted in such beds, acidic medium – tawułka, a crane, picnic (Smilacina), thiarella, hearts. The discount looks the most beautiful, where perennials planted in front of rhododendrons completely cover the surface of the substrate.
Leaves and flowers – the lilac speedwell shines in front of the velvety one, gray purgatory (on the left). Squill, funkie (downstairs) and hyacinths in a runianka rug create an unusual and interesting combination.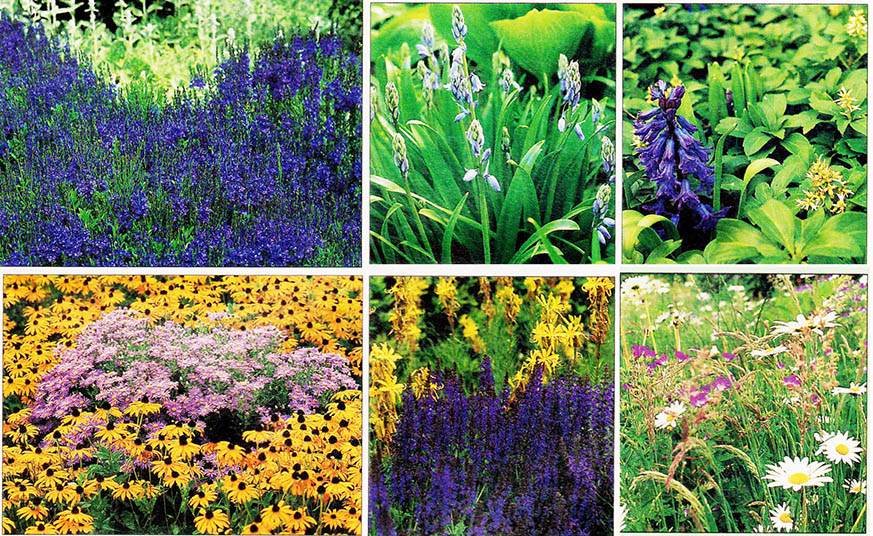 Color contrasts: purple sage in front of yellow goldfish (Asphodeline) or an islet of summer asters in a sea of ​​golden yellow rudbeckia looks rich and ornate provided, that both intense colors do not appear in the same amount.
Wild perennials turn the lawn into a multi-colored one, flowering meadow.
Flower meadow in recent years it has become very fashionable, because it looks great, not requiring much care. Often, however, several years must pass, before multicolored flowers grow among the grass. The waiting time for the final effect can be shortened, by planting groups of wild perennials among the grass. They are perfect for this, e.g.. gilding, geranium, switches, red and white groyne Centrantus.