Society for perennials – ornamental frames. Ground cover perennials and shrubs around flowerbeds.
Perennial flower beds can be used as a decorative complement to lawns or terraces. But they can also be finished with a colored or green border.
The more colorful perennials, the nicer the contrast with the hedge.
A box tree hedge with a very interesting shape – low and angular rebates on the sides, and in the corners in the form of spheres.
Grab is popular not only as a discount border, but mainly as a green fence. The hedges from it are dense, but green only in summer.
Yew trees have dark green needles, on whose background all the other colors look beautiful. They look very attractive even when not trimmed.
Irga requires frequent pruning, because it grows very quickly and branches easily. Perfect for low borders.
Low hedges, colorful clumps of blooming perennials or shrubs with flowers – any type of border and finish will look very effective as a complement to a perennial bed. The choice of the right plants depends on the choice of perennial species, but also the character of the whole garden. Formed hedges look good in a regular garden, richly blooming. Overgrown, tangled shrubs are more suitable for natural gardens.
Tight green, perfect form.
Boxwood is a classic for all kinds of molded hedges. In a country-style garden, it can frame a flower bed planted with colorfully blooming plants, in parks it is formed into hedges of various sizes and shapes, as only you can imagine.
The plant is cheaper than boxwood, but with the same application, is a liguster. In July, if not pruned, it is covered with white flowers, gathered in paniculate inflorescences, which later become clusters of navy blue berries.
Dark yew can play the role of a calm background of colorful beds. It looks very nice in autumn, when the little ones shine between the dark green of the leaves, red berries. The height of the hedge depends on how the rebate is planted – shrubs can provide excellent protection against winds for tall perennials, but they cannot obscure smaller perennials.
Green arch above the entrance. To be able to work inside a perennial bed, there must be adequate passage in the hedge. Small gates look very effective, closed at the top with a green tuck. The passage can also be masked with plants cut in the shape of a column.
A green thicket covered with flowers.
The flowering shrubs that separate the perennial bed from other parts of the garden look like part of the bed. Lots of great flowers, highly decorative shrubs can also be freely trimmed. The color of their flowers determines the final choice (matched to the colors of blooming perennials) and their height. If we only plan to plant the edge of a colorful patch, we can use for this purpose, for example, cinquefoil, decorative quince, barbula (Caryopteris) and tawula.
So that flowering shrubs can show their most beautiful side, some care should be taken when cutting them. After flowering, the shoots can be shortened, however, if possible, they should grow as freely as possible, only then do they produce a lot of flower buds.
Hydrangeas also look beautiful on the edge of the rebate. However, they cannot be trimmed, because they bloom on annuals.
Jasminowiec is a very popular garden shrub. For perennial beds, low varieties should be selected.
The ornamental currant is very decorative. The bush can be formed, but then it does not bloom so nicely.
The Japanese quince can reach heights of up to 2 m. It tolerates pruning and can be shaped into a shrub.
Cinquefoil blooms very early. It has no special requirements and is perfect for pruning.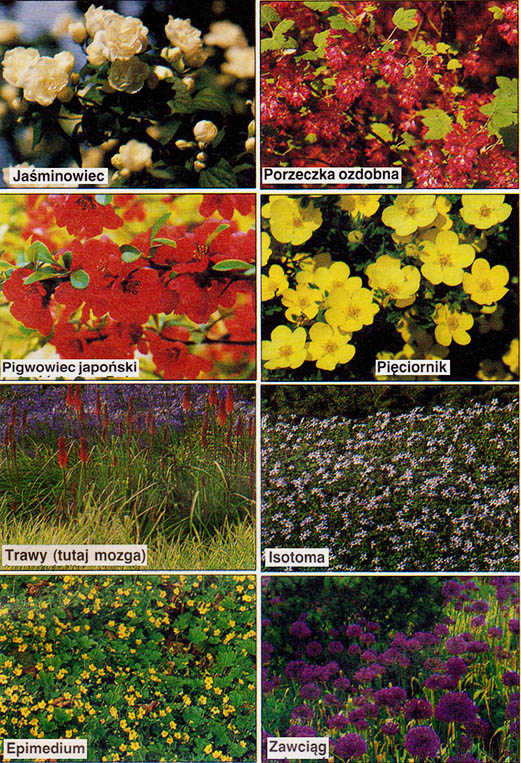 Grasses (here brain) they frame the flowerbed and gently connect it with the lawn.
Isotoma is very beautiful, but a rare plant. It is recommended in colder areas.
Epimedium likes it moist, cool ground and tolerates partial shade well. Some varieties are evergreen.
The loop is decorative all year round – in spring it has lilac flowers, later oblong leaves.
Clumps of low perennials, in all colors.
Clumps of perennials can create decorative colorful spots on the edge of the flowerbed. So they can be successfully planted on the outskirts, around the flower beds. The only condition for the proper selection of plants is their height – the edge must always be a few centimeters lower than the lowest plants in the bed. The colorful border of the bed can bring out or emphasize the basic color of perennials. The transition between the flower bed and the lawn surface can be made easier by planning on their border decorative grasses of other shades of green or perennials with decorative leaves.
All perennials that create colorful cushions need a very well-prepared soil. As they grow, they form a dense tangle of shoots, leaves and flowers, even making it impossible to weed or loosen the soil later. Perennials are best fed with liquid fertilizers, will compost, with which we cover plants for the winter, contains too little nutrients.
Table – plant selection.
Evergreen shrubs

Flowering shrubs

Flowering ground cover perennials

Berberis buxifolia

(do 40 cm)

Berberis wilsonii

(do 2 m)

Alyssum saxatile

(do 30 cm)

Buxus sempervirens

(do 40 cm)

Chaenometes japonica

(do 2 m)

Aubrieta

x

inhabitants'

(do 10 cm)

Berberis verruculosa

(do 1 m)

Cotoneaster divaricatus

(do 3 m)

Cerastium tomentosum

(do 15 cm)

llex crenata

(do 1 m)

Deutzia gracilis

(do 1 m)

Dianthus

(do 30 cm)

Prunus laurocerasus

(do 1 m)

Kerria japonica

(do 2 m)

Iberis sempervirens

(do 20 cm)

Taxus baccata

(do 1 m)

Philadelphus lemoinei

(do 2 m)

Lavandula angustifolia

(do 30 cm)

Common privet

(do 2 m)

Potentilla fruticosa

(do 1,50 m)

The phlox was brought down

(do 10 cm)

Thuja folded

(do 2 m)

Rough rose

(do 1,50 m)

This morning

x

arendsii

(do 15 cm)